Susan Kerlin Harris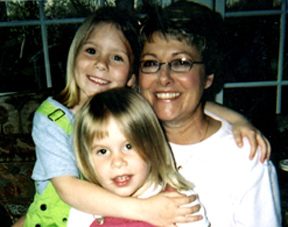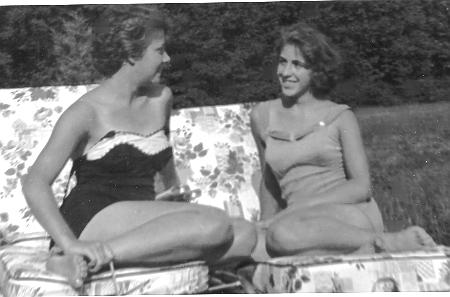 Susan and Richard's Junior Prom Night. Susan said, they do look so '50'ish then, but isn't
that how we all look now - so "fifty-ish"!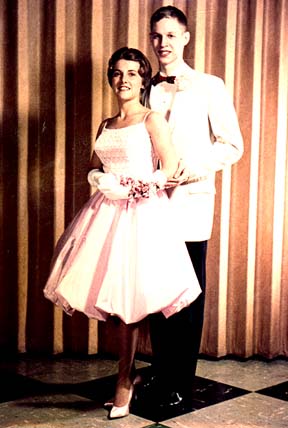 Meralyn and Susan - lookin' good for "fifty-ish"!!
And now... just a few years later, Susan is looking better than ever.
She does have a little competition, but it is that competition,
that adds to Susan's glow .
It is her grand-daughters, Kylie and Meggy!
DEMOGRAPHICS:
Married for 30 years to Les
Children: 1 daughter-Kiera, 28
Grandchildren: 2 grand-daughters: Kylie- 6; Megan- 3
My home is in Centerville, Ohio
OCCUPATIONAL/PROFESSIONAL:
Just "retired" again-from teaching Nursery School at Wee-Haven (some call it wee-wee haven), where I had been toilingly toileting for just over 2 years; I "retired" the first time from teaching Kindergarten when my daughter was born. During the intervening years, I dabbled in a diversified array of fields and sundry endeavors.
MUSINGS:
I am learning to let go of truth, that it is not essential: Peace is. Since I haven't been able to discover truth, I gave up the elusive search for it. Now I am at peace (paradoxically, (c:).
In 1962, I thought I knew just about everything... that I had arrived. Now I now very little, but I have learned that my learning is inevitable, slow-going, and arduous... and sometime painful.
My most significant achievement is that I have found my soul, having discovered it in my heart through my granddaughters, next to all those whom I have ever loved.
I would hope to yet write and have published at least one book, which most readers would find to have contributed to the vitality of their spirits.