SHARON HEATH
FRAZER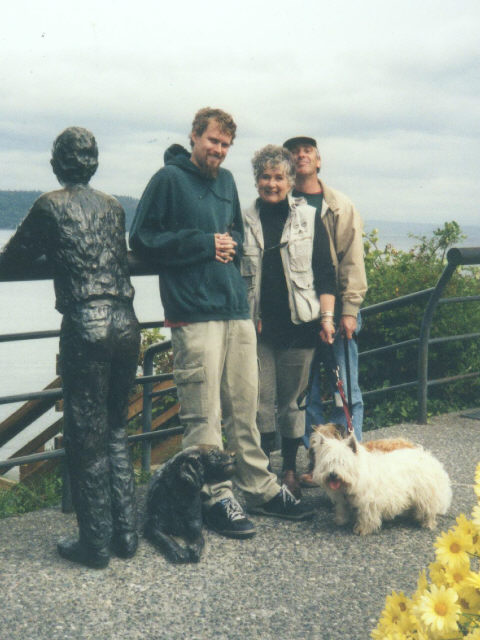 Mailing address: PO BOx 736 , LANGLEY ON WHIDBEY ISLAND, WA 98260 (near Seattle )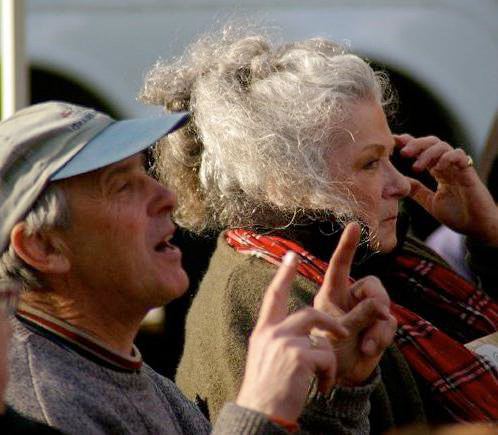 Sharen & Simon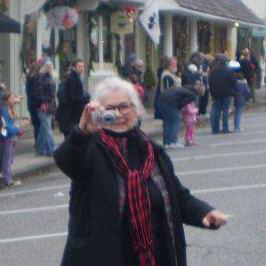 Sharen
Sharen gets the Early Bird award!! First to bring us up-to-date and get ready for our 50th Reunion!
Sharen is married to Simon Frazer and they live on Whidbey Island, Washington where they are enjoying retirement.
Check out Sharen's Facebook Page called "I LOVE LANGLEY"
Greetings CCHS Classmates, (Sept. 2002)
What fun to reacquaint with you via this cyber screen.
It's interesting to view pictures and mini-bios of each of you... Judy B, your son is slide-off-your-seat handsome. Well done! Otto, you look so happy tossing your grandson about. Danny G, I love your mustache and the way your life reflects a lighthearted but serious commitment to kids. Jean F, working on your divinity degree, wow, who knew?! John R, handsome as ever. Linda G, how do you stay so slender?
If we had a message board attached to this CCHS Class of 62 website, I'd send "Well done" to each of you. Forty years gone by... incredible!
While condensing 40 years into a mini bio is challenging, like you, I'll give it a try. Meantime, Cheers and have a wonderful time reconnecting at September's 40th Reunion of the Class of 62. Sorry I shall not be able to attend... maybe our 50th?
Warm regards,
Sharen Heath
Langley, WA
Married: My husband, Simon Frazer (who was "Made in England"), and I have been together for 20 years, married six.
CHILDREN: Our son's name is Matthew Pamatmat (or Matt Pamatmat). Matthew is 29 and married to beautiful Amy. He took her last name when they married. They live near San Francisco and are both Social Workers. No grandchildren yet - maybe someday.
CAREER: I taught elementary grades for several years, but by the early 80s I jumped over to the corporate world. There I worked in marketing and advertising for a major gift and greeting card company in Northern New Jersey, and wrote a line of greeting cards called "Touching You" that became quite popular. By the 90s I had moved to Southern California with Simon, and became computer literate. There I did a variety of things. My favorite was working for a non-profit open space advocacy organization. I also wrote a commentary column for our Laguna Beach weekly newspaper
CURRENT ENDEAVORS: After 16 years in Southern California, we recently moved to the Puget Sound in Washington state - a long, long way from my hometown of Congers. We're building "our final nest" (semi-final??? LOL) - a Craftsman style home on a highbank waterfront in Langley on Whidbey Island. This is a community a lot like Laguna Beach but with a population of about 1000, rather than 25,000. Yes, it's lillaputin, rural, unspoiled and delightful. Whales glide by the waters below and eagles soar overhead. We think we've found a little piece of serenity in this frenetic world. And yes, it does rain a lot here (as a PNW-er, they tell me I am obliged to say that; wink, wink) which is why it is so green and lovely.
FAVORITE SONGS: Unchained Melody, Righteous Brothers; Good Vibration, The Beach Boys; Natural Woman, Carole King; Glory Days, Bruce Springsteen; Imagine, John Lennon; You're Still You, Josh Groban... oh, so many more.
LIFE'S HIGHLIGHTS: We raised a great kid; attended the Simon & Garfunkle reunion in NYC's Central Park; canal-boated on the Oxford Canal in England; sailed on a 42' boat in French Polynesia; snorkled in Belize and visited ancient ruins in Guatamala; rode the bullet train from Switzerland and strolled down Paris streets in winter; marched with 8000 others to "Save Laguna Canyon" (and did); voted for Jimmy Carter and George McGovern...
BEST ACHIEVEMENT: Nurtures a sense of Adventure.
ADVICE TO YOUNG PEOPLE: Find your passions; the rest likely will take care of itself.
KNOW NOW THAT I DIDN'T KNOW THEN: It's NOT all about me!
HOPE YET TO DO: Plant and harvest a good garden, travel more, write more; moreover discover the focus of this "second half" of my life.