NANCY KERLIN A/K/A NurseNancyENT@AOL.COM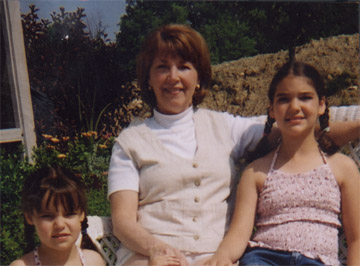 Nancy with her grand-daughters, Nicole, 9 and Daniell, 5.
This picture was taken recently when she was visiting her sister, Susan
Richie and I have been married for 38 years. We have three children: Suzanne, 35; Brian, 30; and Kerrianne, 24; two grandchildren: Nicole, 9; and Danielle, 5. Our home is in New City, New York.
I have been working as a Registered Nurse in the office of an ENT Specialist for 22 years. I also assist the doctor in cosmetic facial surgical procedures [lifts, rhinoplastys, ototpastys, chin and cheek implants as well as in hair transplants].
To today's youth, I say, "Live for the following: Who you are; that on which you stand; what you believe in, and what you are capable of accomplishing."
My favorite song is "Where were you when the world stopped turning?" by Alan Jackson.
What I didn't even guess in l962 would be in store for us is www.AskJeeves! In 1962, I thought we were so technologically advanced. Today, of course, I know I haven't a clue as to what is yet to come.
Having raised three fabulous children (one of whom has blessed me with being a grandmother of two beautiful grandchildren) is the accomplishment of which I am most proud.
I hope yet to win the lottery and would love to open my own nursing home facility to provide quality care for the aged.