Miriam Hamilton Crump AKA Crumpit1@Juno.com
Miriam's daughter, Michelle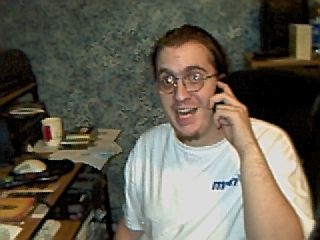 and her son, James.
DEMOGRAPHICS:
Married for 40 years
2 children
My home is in San Angelo, TX
OCCUPATIONAL/PROFFESSIONAL: Semi-retired--work 3 days a week monitoring burglary
and fire alarms
PET PEEVE: When someone doesn't leave a little bit of toilet paper hanging off the roll so you
have to keep spinning until you find the end!
MOST IMPORTANT MESSAGE FOR TODAY'S YOUTH: Have fun; do all the things you'd
like to do -don't wait!
ESSENTIAL TRUTHS: You can't do what you like when you are over 50!
MOST SIGNIFICANT ACCOMPLISHMENT: My long marriage and my kids.
HOPE YET TO DO: I'd like to get to California, just once!