...and the Saga continues
CCHS Class of '62
Reunion July 13 & 14, 2012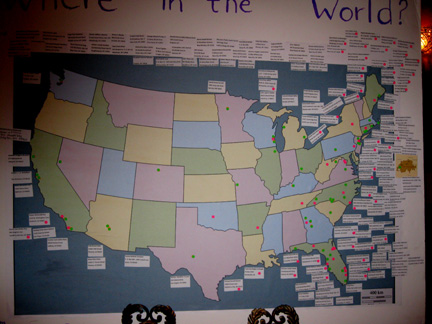 Fifty years ago, we all lived in and around the little communities that included the Clarkstown Central School District. Now, 2012, returning back to our roots, only a handful still live in what we used to call 'home'.
Traveling from California, Oklahoma, Florida, Arkansas, Texas Wisconsin, Georgia, Tennessee, etc. was quite a journey for many. But whether you still live close by like Harriet (Muller) and Jim Amorese, or far away like Donna (Norbo) and Bob Kay...
...our Sentimental Journey continues.
Thanks to Lillian's research and creative abilities, we can see on the map that she made where many of our '62 classmates now reside.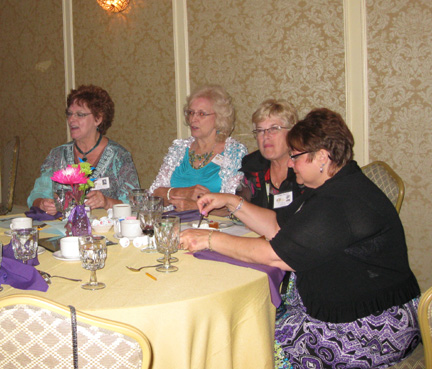 Familiar faces - far left, Marilyn (Herguth) Lucas, and second from right, Barbara Bischoff.
Below, Barbara (Bobbie) (Joy) Trager is busy taking pictures. (Send them along Bobbie and we will add them to our collection.)
Above, Lillian (Schaffhauser) and husband Bob Patten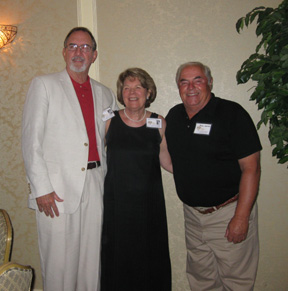 Bob Kay, Joyce (Dann) Gibson and Doug Grando. They all attended the Chestnut Grove Elementary School.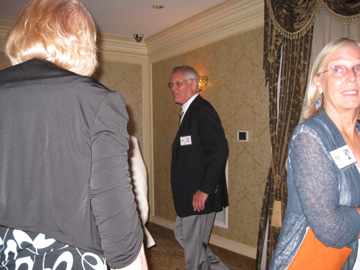 Richard Danis in the center, and Donna (Norbo) Thal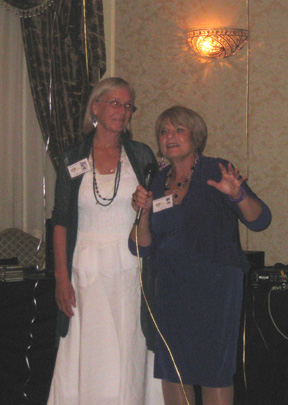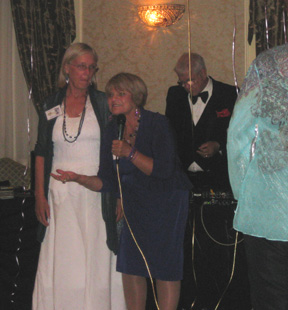 Donna and Niki bring back old memories as they sang "Sentimental Journey"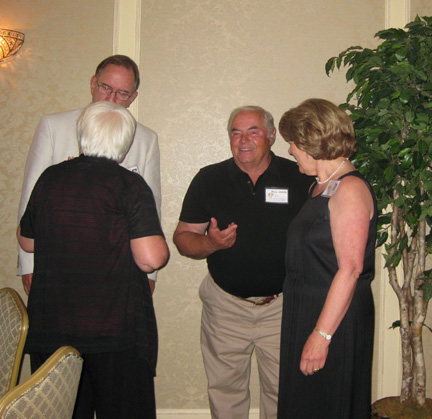 Bob Kay and Merillee (Goldsmith) Brown - back toward camera and Doug Grando and Joyce (Dann) Gibson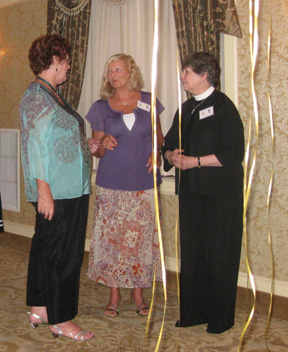 Marilyn (Herguth) Lucas, Lillian (Schaffhauser) Patten and Rev. Lauren (Dreeland) Ackland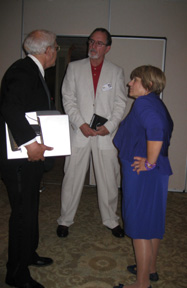 Frank Comando, Bob Kay and Niki (deVarenne) Crahan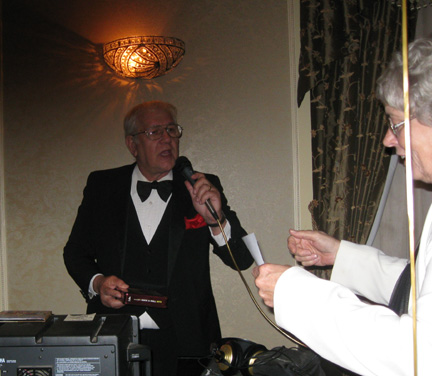 Frank Comando at the mic, with Elaine (Wicks) Daugherty, who organized the '62 Trivia Game, reads off the answers.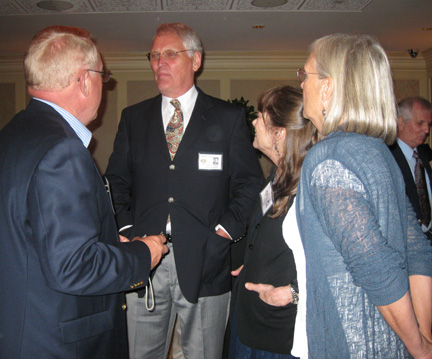 Gary Crahan, Richard Danis, Jane (Rockwell) Jaffee, and Donna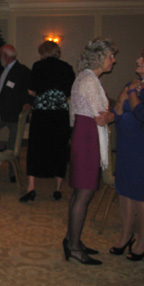 Glenda (Smith) Schneider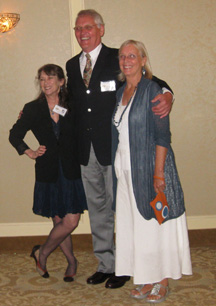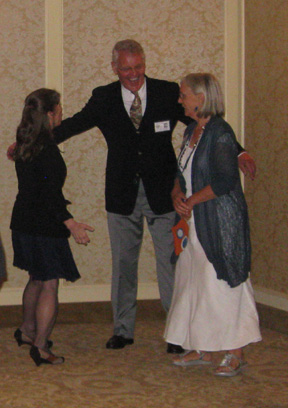 Jane, Richard and Donna pose for an elementary re-cap pictures.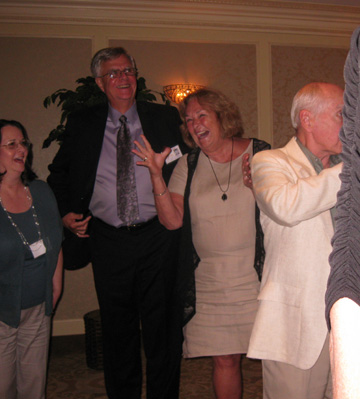 Marilyn (Rogers) Gottsch, Ken Herdman, (Jean DeGaris) Lindenberger and Bob Benzie (Bardonia Elementary School Attendees)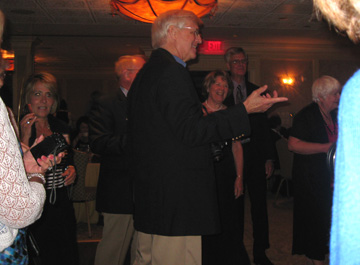 Joann (Fassetta) Grando, Gary Crahan, Richard Rodewald, Joyce (Dann) Gibson, Ken Herdman and Merrilee (Goldsmith) Brown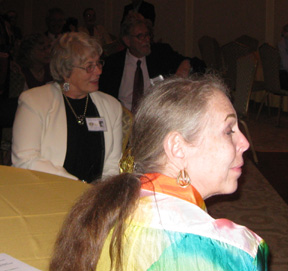 Elaine (Wicks) Daugherty & Marilee Mescon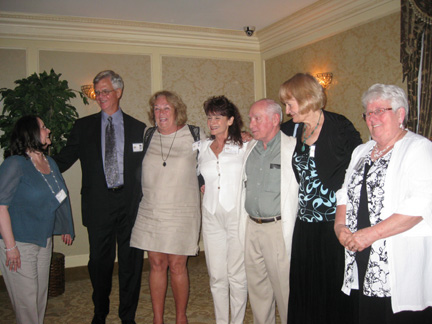 Marilyn, Ken, Jean, Linda, Bob, Louise (Stolarz) Rill, Joy (Garrison) Hinnes (a few more added to Bardonia???)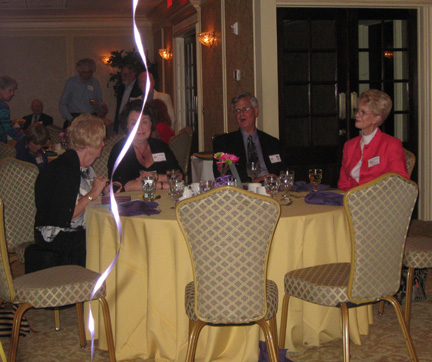 Mary (Higgins) Hensey (far left) chats with Marge Herdman, Ken Herdman and Kate Danis.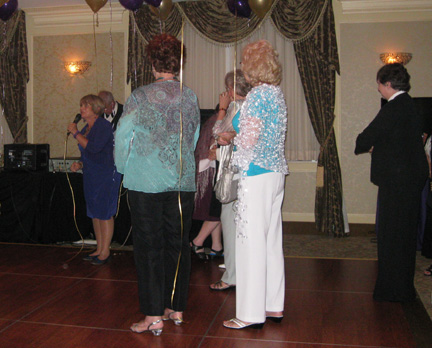 Niki at the microphone.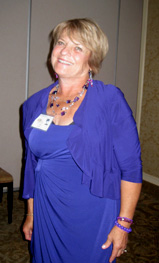 Niki looking very stunning!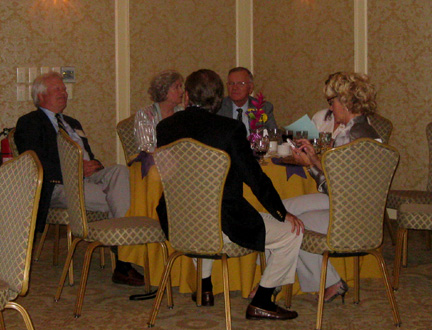 From left, going around the table - George Ackland, Patti (Miller) Sauter and husband, Fritz; Rhonda Horton, and Dick Horton (back toward the camera)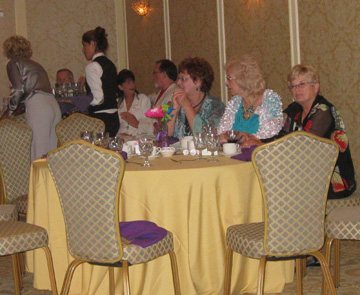 The food and the drink was enjoyed by all.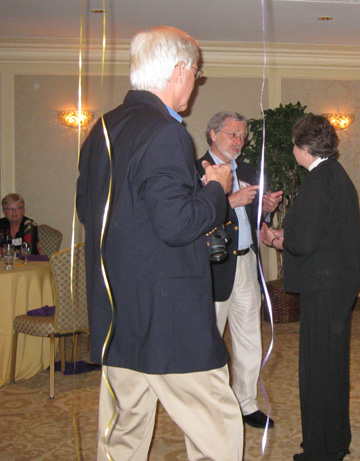 Barbara Bischoff in background watches Richard R, Bob Fullem and Rev. Lauren (Dreeland) Ackland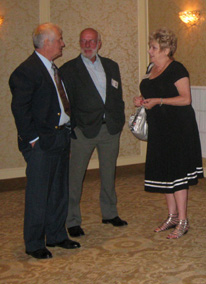 Tom Costin, Otto Pelzar and Marion (Winn) Katchur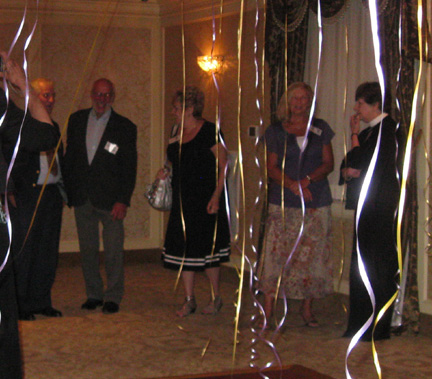 Tom , Otto, Marion, Lillian and Lauren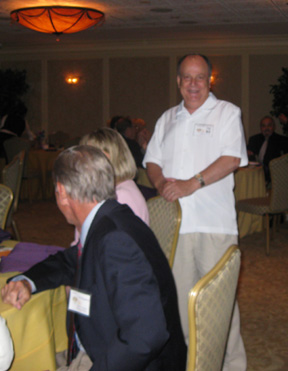 Jim Amorese stands along side of wife, Marcella.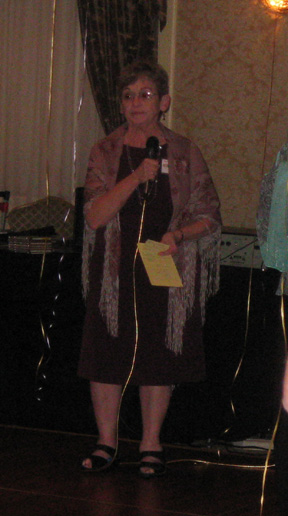 Clara (Harp) White offers the emotional closing words...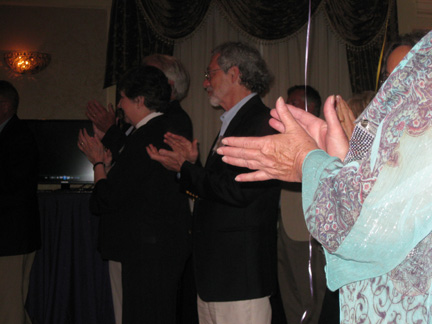 ... and receives a grand applaud.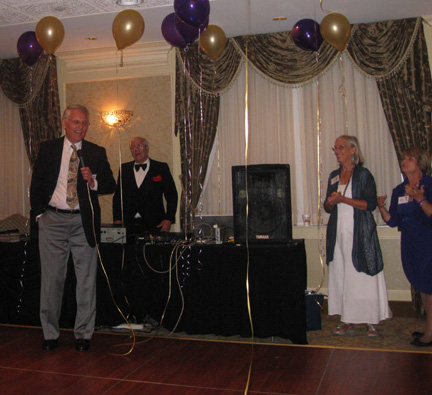 The evening ended too quickly! Richard Danis adds a few closing words and the evening ended with smiles and miles of memories!
But it wasn't over yet. Many gathered for breakfast before their final, "Auf Wiedersehen"
(Until we meet again!)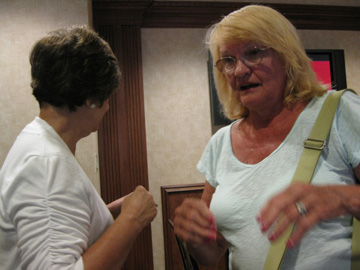 At breakfast, Fran (Servidio) Raucci and Judy (Jackson) Weiland recall some good memories of West Nyack.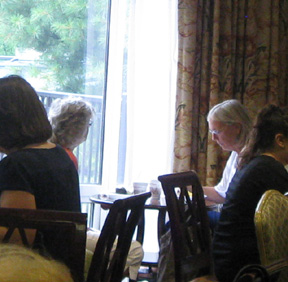 Glenda and Donna chat over breakfast.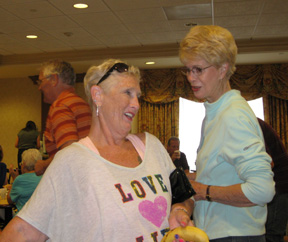 ... and Gloria. Gloria didn't need the T-shirt to make her statement. Gloria certainly loves life! Her smile proves it, and so does the smile she put on many of our faces!! Thanks Gloria - we all needed that!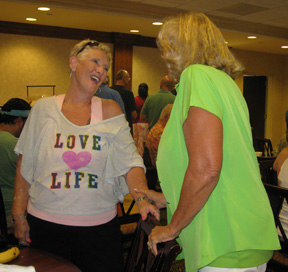 Gloria and Lillian.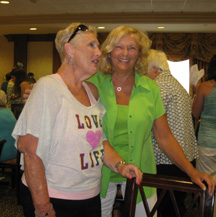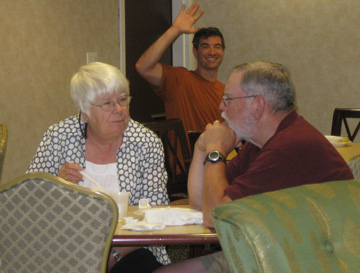 Whose that in background????? Who knows, but the familiar faces are Merrilee (Goldsmith) and husband Tod Brown.
After breakfast on Sunday, we all headed home filled with a bit more love for CCHS and our class - the CCHS Class of '62.
Hope to hear from all of you real soon. And don't forget the pictures; they are worth a thousand words! If there are any mistakes in names, send an email to clarkstown62@yahoo.com and let us know.
All pictures and any information that class members wish to have posted on the website can also be sent to clarkstown62@yahoo.com
Let's keep this website going for many years. Send us photos of what you are doing now, grandchildren, great grandchildren, or interesting pictures and stories that go along with them.
We each have our own Saga now. Maybe you want share some of your stories and adventures with the rest of us.
Do you have your own website - send us the URL and we will link it.
The CCHS Class of '62 Committee