Judy Wieland (Jackson)
Judy & Tony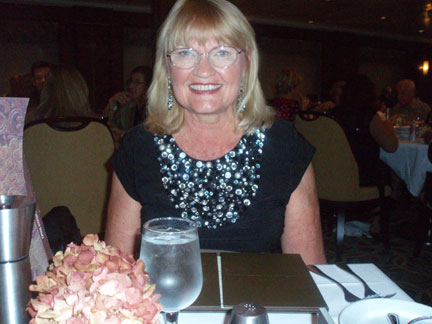 Address:
Greenway Village
12006 Poinciana Blvd., #104
Royal Palm Beach, FL 33411
One of my favorite leisure activities is gardening among several others, reading, traveling, swimming and hanging out with the grandkids.
Married Al Wieland in June, 1964. My 2 children were born in 1965 and 1969. Moved to West Palm Beach, FL in 1973 with my then husband Al and our 2 children Allan and Jean. Al and I divorced in the spring of 1987 after 23 years together. In 1985 I took a full time position with the School Board of Palm Beach County and worked at the district office for about 25 years in a secretarial position, 2 years prior, part time. In 1989 I met Tony Azevedo, who is the love of my life, and we've been together ever since. Tony and I have enjoyed traveling and have had the opportunity to visit Europe and numerous places throughout the United States. After 25 years employed with the PB County School Board I retired in January, 2010 and I'm 2 years into enjoying my retirement.
What would I still like to do or accomplish? Probably do some more traveling. Maybe visit Europe again.
What did I accomplish that I'm most proud? Being a mom, and grandma to 4 wounderful grandsons. My daughter, Jean has 3 boys, John, 17, and graduating high school in May, Greg, 16, and Gavin, 7. My son, Allan has a little boy, Tristan who will be 5 in August and by the way is a great little golfer already at 4.
My happy place is at home with Tony and our 2 cats, Tiger and Sam.
My happiest is: Planning that next road trip and keeping busy.
I just finished a book called the "Unbroken" by Laura Hillenbrand...a World War II story...a fabulous read. Favorite songs are too numerous to mention. "West Side Story" comes to mind for a favorite movie, but I'm sure there are others.
Pet peeve: "When the kids don't call!"
My important message to today's youth and senior citizens and it's a quote from Mark Twain:
"Twenty years from now, you will be more disappointed by the things you didn't do than by the ones you did do. So throw off the bowlines. Sail away from the safe harbor. Catch the trade winds in your sails. Explore. Dream. Discover."
Several places I've been to are: Ireland, Italy, Germany, Switzerland, England, France and numerous trips to California, Alaska, Utah, Colorado, Nevada, Las Vegas many times over. Love those slot machines. We've done summer trips to Gatlinburg,Tennessee, Key West, FL and St. Augustine, FL. I'm a big road trip person so planning trips are a passion for me.