Linda Greenrose Comando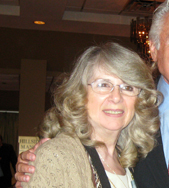 A/K/A lindacomando@yahoo.com
131 Peekamoose Road
Sundown, NY 12840
845-985-0501
My favorite leisure activity during the nice weather is playing outside in the yard. I love gardening, rafting down our stream, hiking in the forests and any excuse to get me out of doors. During the winter, I love to dabble in my arts and crafts room making some of the most distinguished looking Catskill Mountain Gnomes.
Since our last reunion, I am now the Editor of our local 65 year old newspaper that my husband and I purchased in 2005 to celebrate our retirement! Need I say, we have never worked harder in our lives! But it is fun.
I would still like to write a book or two, travel to the Scandinavian countries and finally meet my cousins, and after that, who knows??
I still have to say the thing I am most proud of as far as accomplishments is raising our five children, and now seeing them as wonderful parents, aunts and uncles to our grandchildren, and our one great-grandchild!
My favorite movie is "Breakfast at Tiffany's" and song - "Moon River".
I don't have time for pet peeves. I guess if I were more observant I might find a few!
My favorite motto "It is nice to be nice."
A message for both old and young, "Enjoy every day as it comes and don't worry about tomorrow." I have learned that I have worried over things that never happened, and things happened that I never worried about!
I traveled the entire East coast from Florida to the New England states. The best trip I ever went on though, was from City Island, up the Hudson River in our own sailboat and seeing NYC, the Palisades, our own 'old' backyard, Nyack, and the river banks along the Hudson from a different perspective and it is still one of my favorite things to do.