Does anyone else remember Mrs. Leibfreid's Kindergarten Class
in West Nyack?
Check out the old car in the background!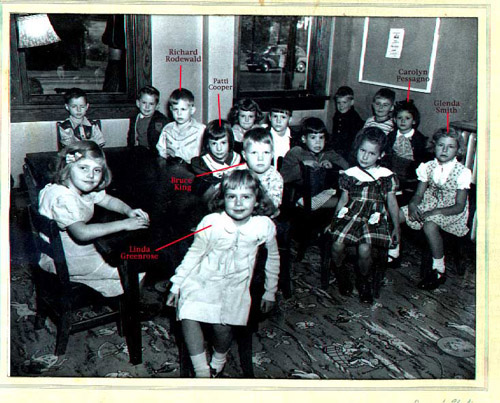 Not everyone remained with us, but I have tried to identify those classmates who began here and graduated from CCHS in 1962.
Always being the shortest, guess who is up front? Then there is Bruce King sitting right behind me. Next to Bruce is Patti Cooper, and then there is Richard Rodewald. Sitting at the other table is Glenda Smith and Carolyn Pessagno.
For those of us who were in the picture and can remember that day some 50+ years ago (1949), I will try to recall the names of some of the other students who were with us then. Sitting next to Richard, Jeffrey Lockwood. I do not recall the names of the little boy at the end of the table, nor the girl who is sitting next to me - any ideas?
At the other table going counter clockwise from Carolyn Pessagno, - I think that the next fellow was Bobby Ofeldt, ?? don't know, then on the other side of the table, Arby Engels, Eric Egus, Lois Breger and Barbara Cheyne.
Now, a few years later.. Third Grade at West Nyack.
Starting at the bottom row - John Pederson, Eileen Rogers, Paul Fry, that short kid again, Jeffrey Lockwood, Lois Dahm,
2nd Row: Carolyn Pessagno, Richard Rodewald, Jimmy Peterson, Al Stout, Judy Jackson,.
3rd Row: Cathy Merz, Pamela Hale, Fred Batzold, Barbara Cheyne, Anne Wodehouse
4th Row: Lois Brega (Not sure of the spelling), Marybeth Olin, Bruce King, Merillee Goldsmith, Cassandra Wilson,
5th Row: All the tall kids! Harriet Muller, Glenda Smith, Jimmy Metler, Nancy Coleman and Imajean Hubbard
... the last year at West Nyack before joining the "big" CCHS '62 class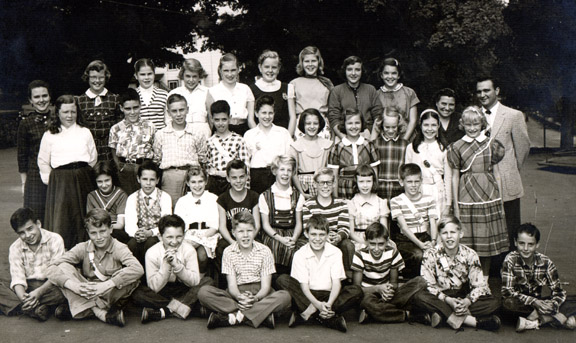 Indeed we did grow. Let's see how good my memory is now. Of course, I can't forget Mr. Cosentino, he was our first "man" teacher. Then standing next to him is Mrs. Kling, teacher and principal (imagine that today?) On the opposite side the lady standing at the end of the second row, was the Kindergarten/Spanish teacher. I think her name was Mrs. (Kelsey) Cameron
Now for the challenge. Starting with the front row: Peter Pulis, Jimmy Metler, Jimmy Peterson, Bruce King, Fred Batzold, Danny Gartrell, Richard Rodewald, Bert Parsloe
Row 2. Patti Cooper, Michael Barone, Linda Greenrose, Raymond "Kiko" Lavalle, Lois Dahm, Bruce Matlack, Beth Holmes, Barry Cole ?,
Row 3: Bettina Geddes, Billy Johnson, Al Stout, Neil Meyers, Michael Reddy, Carolyn Pessagno, Eileen Rogers, Leslie Shaw, Marybeth Olin, Judy Jackson
Row 4: Cathy Merz, Merrilee Goldsmith, Glenda Smith, Nancy Coleman, Imajean Hubbard, Sharon Click, Harriet Muller, Elizabeth Falk
If I have gotten anyone's name wrong, or someone knows the names of the people I don't, please send us a note at clarkstown62@yahoo.com.
Also any other elementary pictures that anyone may have and want to add to the sight would certainly be appreciated by all of us.
.