LILLIAN SCHAFFHAUSER A/K/A pattenfamily1@juno.com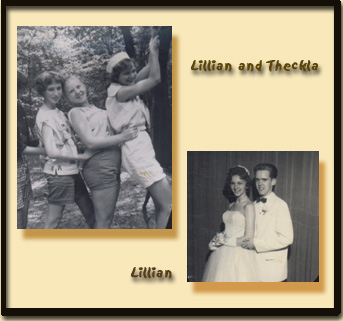 Lillian then...
.
..and Lillian 2002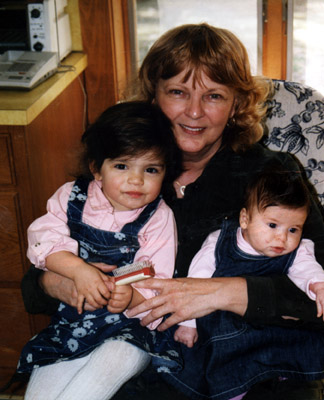 2002 DEMOGRAPHICS:
· 35 years married to Bob
· Lisa Jo, Rip, Becky and Laura
· 4 grandchildren: Aidan, Ellie, Nora and Josie ; 2 on the way.

· My home is in Congers, NY

OCCUPATIONAL/PROFFESSIONAL: A multi-aged, 3/4 elementary school teacher

PET PEEVE: Piles of papers!

MOST IMPORTANT MESSAGE FOR TODAY'S YOUTH: When rummaging through memorabilia, I came across a composition written by my daughter, Becky. In it, she writes, "My mother tells me to think unrealistically and don't underestimate yourself. Overestimate your abilities. And never, EVER say "CAN'T".

So, I guess that is what I would advise the youth of today. I always tell my students that the bumblebee was not supposed to fly, but no one told the bumblebee.

Think positively: Live, love, and laugh. Don't worry-be happy! Trust in God. Think of others. Live this time to make memories for the future.

FAV SONGS: I like so many songs. However, the ones that I mention are those that trigger pleasant memories:
"Sentimental Journey", "Misty" and "Moon River" from our high school dances!
"Four Strong Winds"--my college days;
"Touch of Grey" by Grateful Dead-my children played this frequently;
"I Will Survive"-after a painful breakup in sixth grade, my daughter played and sang this song in a talent show and received a standing ovation;
"You Are Wonderful Tonight", "As Time Goes By", "Time Will Tell", and "My Heart Will go On" (Love theme from Titanic)-some of my romantic favorites; and last...
my childhood favorite "The Teddy Bear's Picnic", which I am reacquainting myself with to sing to my grandchildren.

ESSENTIAL TRUTHS:
Then ~ I thought I had all the time in the world.
Now ~ Time is precious-use it wisely.

MOST SIGNIFICANT ACCOMPLISHMENT: I grew up four children and a husband.

WOULD LIKE YET TO DO:
· Would like to sell my husband's baseball cards!
· Would like to play tennis.
· Would like to see my grandchildren more often.
· " and as (Sandra Bullock) Miss Congeniality would say, 'I would like to bring about world peace' "



Lillian (Schaffhauser) Patten - 2012
Sitting on the beach, sipping margaritas, watching the sunset. After retiring from teaching in the North Rockland School District I have relocated to coastal North Carolina . Enjoying each moment, enjoying the journey. It has not taken long to learn this new way of life.I relish the outdoors as the climate affords me the opportunity to spend hours gardening, swimming, and biking. Since becoming a Carolinian, tennis has been an integral part of my life. I am most content being with my husband Bob, hitting tennis balls under the Carolina blue skies. During our time on the coast I have enjoyed playing on several USTA teams. With my husband as my partner, earning the title of Mixed Doubles State Champions was an exciting venture.My artistic endeavors include dabbling in the mediums of oil paint, acrylics, watercolor, as well as colored pencils. My art can be found in homes in Maine , New York , North Carolina , and Toronto . My hope is to someday channel what I am learning into writing and illustrating a children's book.I have been blessed with seven precious grandchildren. How incredible it is to have them visit us by the ocean for weeks at a time. And when we are apart, technology keeps us connected. With FaceTime, seeing and communicating with my grandchildren has become part of my daily ritual.Enjoy the journey. Frequently these words cross my mind. Repeatedly I am reminded to find the joy that surrounds me. Enjoying the journey while working through the challenges and finding solutions.Be joyful.Be happy.
Enjoy the journey.